[cmsmasters_row data_padding_bottom="50″ data_padding_top="0″ data_bg_parallax_ratio="0.5″ data_bg_size="cover" data_bg_attachment="scroll" data_bg_repeat="no-repeat" data_bg_position="top center" data_color="default" data_bot_style="default" data_top_style="default" data_padding_right="3″ data_padding_left="3″ data_width="boxed"][cmsmasters_column data_width="1/1″][cmsmasters_text animation_delay="0″]
City of Tucson Face Covering Mandate
From the City of Tucson:
"Effective immediately, every person in the City of Tucson over the age of five (5) is required to cover their nose and mouth with a face covering when in a public setting where continuous physical distancing is difficult or impossible.
Adults accompanying minor children who are five (5) years of age or older shall use reasonable efforts to have children to wear face coverings when they are in a public setting.
Businesses whose employees interact with the public must require employees to wear face coverings.
This requirement is put in place under Ordinance Number 11766 and closely track Pima County Supervisors' resolution 2020-49 passed on 6 /19."
Click here to read the City of Tucson's FAQs about Face Covering Requirements.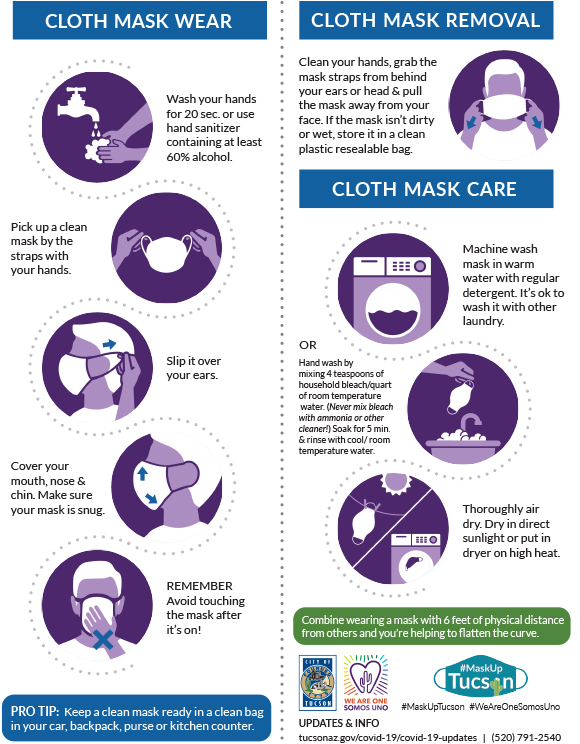 [/cmsmasters_text][/cmsmasters_column][/cmsmasters_row]