As we celebrate International Women's Day, we thought it would be a good time to look back at Marshall Foundation founder, Louise Foucar Marshall and her lasting impact on the development of Main Gate Square.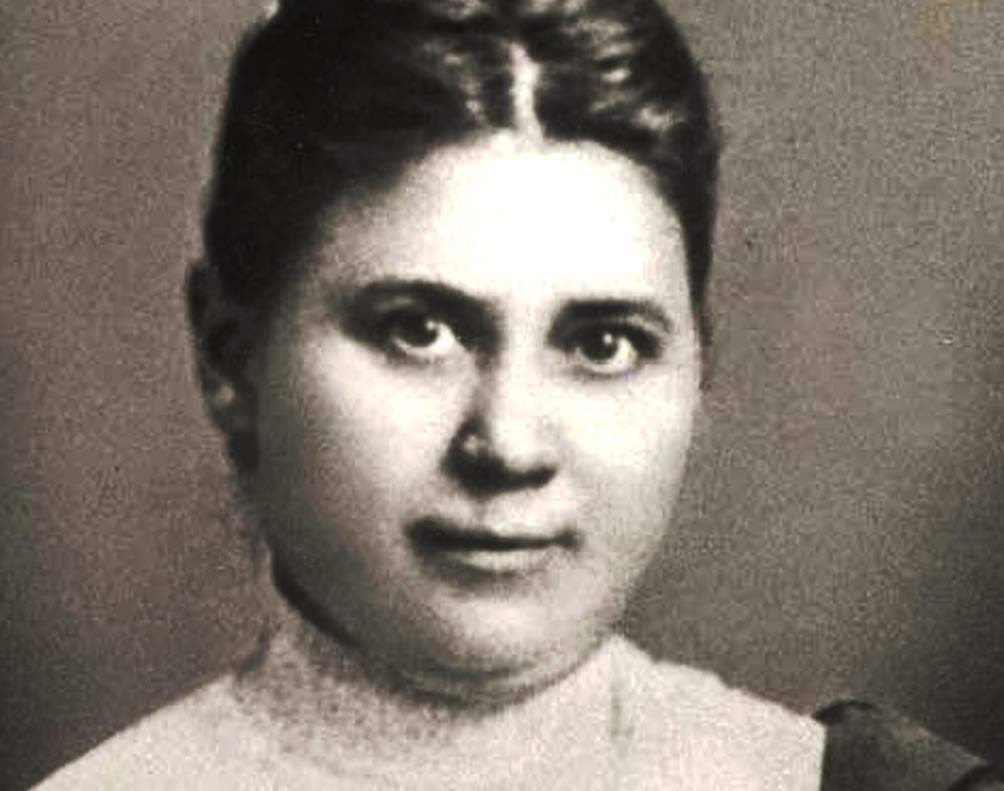 Louise Foucar moved to Tucson, AZ in December of 1898. She wanted to attend the University of Arizona as a graduate student, but she also had ambitions to be a faculty member. She was the first graduate student at the University of Arizona from out of state and in 1903 became the First Full Female Professor in Ancient & Modern Languages. She also taught Botany and Mathematics.

Louise Foucar loved teaching and was an ambitious woman with a talent for business. She had an idea that it might be possible to buy and develop land and use the rental income to fund scholarships for the students she wanted to help. While still teaching, she began to buy up properties near the expanding university campus using money inherited from her parents. It was not a huge sum, but Louise was a shrewd negotiator and was willing to buy raw land not many people wanted because it was so far from the central business district downtown. In 1903, she resigned from her teaching position at the University to focus full-time on her business pursuits. The shy ex-university professor had a plan that involved real estate and she was determined to make it work.
Louise hired Thomas Marshall, a former student, and her future husband, to help with the maintenance of her rental properties. It was a happy and busy time for Louise and her husband as she focused all her energy and skill on expanding her holdings and managing the various properties. In 1922, she developed a block of businesses across from the University's main gate at Park and Third Street, now known as University Boulevard. The Park Avenue Shops were Tucson's first suburban shopping center and became an instant success, attracting new customers to the area for the first time.
Louise continued to develop properties and used the growing revenue to create the private, not-for-profit corporation known as Marshall Charitable Foundation in 1930. As a non-profit, it was (and still is) required to donate five percent of its net worth yearly and serve the needs of organizations based in Pima County. 1930 was a banner year for Louise because her dream to create a permanent scholarship fund to help students attend the University had finally become a reality.
Tragedy struck in 1931 when after facing diminishing health, Louise found out she had been poisoned with arsenic. There were persistent rumors about Thomas Marshall's affair with an ex-housekeeper and the mysterious cause of Louise's prolonged illness. A tense atmosphere of suspicion and mistrust hung over the Marshall household and finally, it exploded on the night of April 27, 1931, when Louise shot her husband five times at point-blank range. Two bullets missed him completely and three hit non-vital organs.
Thomas Marshall died three weeks later at a Los Angeles hospital and Louise was charged with first-degree murder. She said at the time that her intention was only to warn her husband, after suspecting him and their ex-housekeeper of having an affair and conspiring to kill her with arsenic.
On the advice of her lawyers, Louise pleaded guilty by reason of temporary insanity. It was one of the very first legal cases to include this novel defense. She claimed she shot her husband because of fear that she was being poisoned. The jury was persuaded by her emotional testimony and acquitted her on the first-degree murder charge after deliberating only half an hour.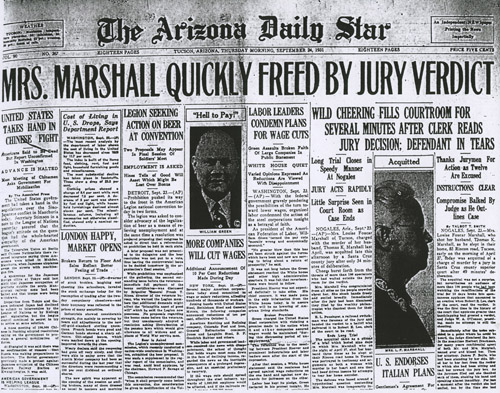 The tragic episode marked a low point for this remarkable woman, but in the end, it turned out to be a brief chapter in a long, rich life filled with achievement. Louise Foucar Marshall was the first woman professor at the University of Arizona, she helped establish a chapter of the sorority Pi Beta Phi and served on the Arizona Board of Regents. At the beginning of the 20th century, she was one of the first people to realize the potential for real estate development next to the University campus. She used her business savvy to acquire the properties that would generate the income that would make possible the scholarships for deserving students.
After her acquittal, Louise rededicated herself to managing her extensive real estate holdings and promoting the work of the new Marshall Charitable Foundation. She took over day-to-day operations and began working in concert with a newly-appointed board of directors. Her participation in foundation activities continued until her death in 1956 at the age of 92. When she died, the assets in her personal estate totaled less than $5,000, but the holdings of Marshall Foundation were worth more than $900,000, a very large sum by any measure for the time.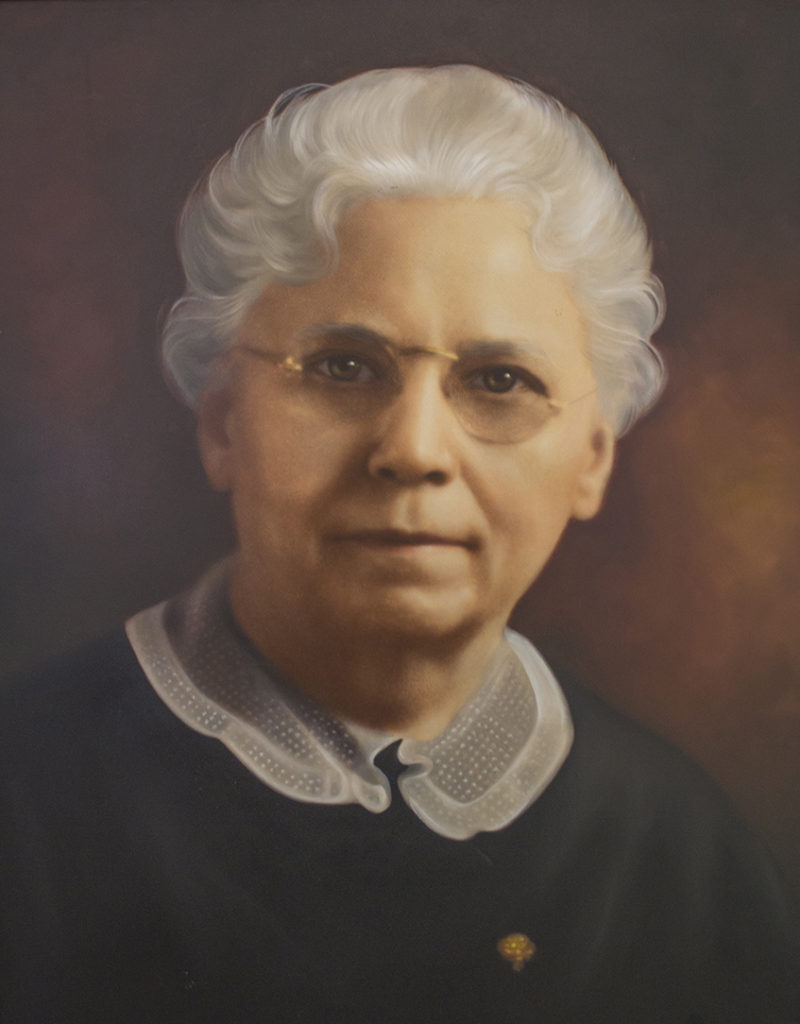 The Marshall Foundation volunteer Board of Directors was charged with carrying out her legacy and does so to this day.

Since the redevelopment of Main Gate Square which began in 1990, Marshall Foundation's giving has grown from $200,000 per year to an average of $1,500,000. Approximately half of the donations are given to the University of Arizona for scholarships and the other half go to nonprofits in Pima County.

In 2015, Louise Marshall was inducted into the Arizona Women's Hall of Fame. Today, in 2021, Louise's legacy continues with a new generation of entrepreneurial women business owners.
Current Main Gate Square women owned/co-owned businesses and franchises include:
Beach Bunnie Tanning
Ben's Bells Open Studio
Blades Hair Design
The Buffalo Spot
Boutique 816
Collette Clothing
The Dutch Eatery & Refuge
Fox in a Box Tucson
Frog & Firkin
Geronimo Restaurant
Grand Central Clothing
Jimmy John's
Jimmy's Pita & Poke
Oriental Express
Posner's Art Store
Saigon Pho
Sanctity Tattoo
Sinbad's Restaurant
Spring Nail Salon
Swindlers
That's The Spot Chiropractic
uBreakiFix
Woops! BakeShop