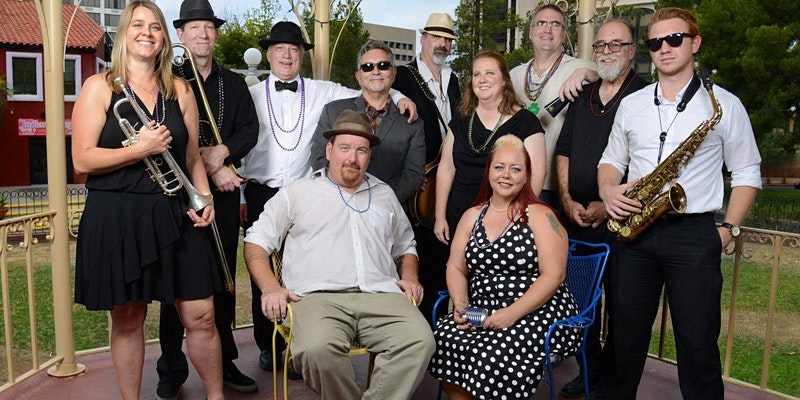 [cmsmasters_row data_padding_bottom="50″ data_padding_top="0″ data_bg_parallax_ratio="0.5″ data_bg_size="cover" data_bg_attachment="scroll" data_bg_repeat="no-repeat" data_bg_position="top center" data_color="default" data_bot_style="default" data_top_style="default" data_padding_right="3″ data_padding_left="3″ data_width="boxed"][cmsmasters_column data_width="1/1″][cmsmasters_text animation_delay="0″]
Main Gate Square and Jonas Hunter Productions present:
Friday Night Live Summer Jazz Concert Series
FREE ADMISSION (FREE TICKET REQUIRED) – Fridays at 7:30pm
Geronimo Plaza – 814 E University Blvd
Validated parking in Tyndall Garage after 5pm
Friday Night Live! Summer Remaining 2021 Performances:
August 20 The Muffulettas New Orleans Jazz
Formed in 2011, their repertoire was entirely composed of music from the funky vocal tradition of New Orleans. Not Dixieland, but rather vocal music, originated by artists such as The Meters, Professor Longhair, King Floyd, Dr. John, Irma Thomas. Music from the 60's, 70's, and 80's.Music to make you happy, move your hips, tap your feet, drink, dance, sweat. Plus, not only are they stewards and curators of music for the soul, they also contribute to the tradition with Muffuletta originals. The Muffulettas…Funky vocal music for the masses.
Click here for your free tickets!
https://www.facebook.com/muffulettasTucson/
[/cmsmasters_text][/cmsmasters_column][/cmsmasters_row]